Click cover art to go to the PHD website.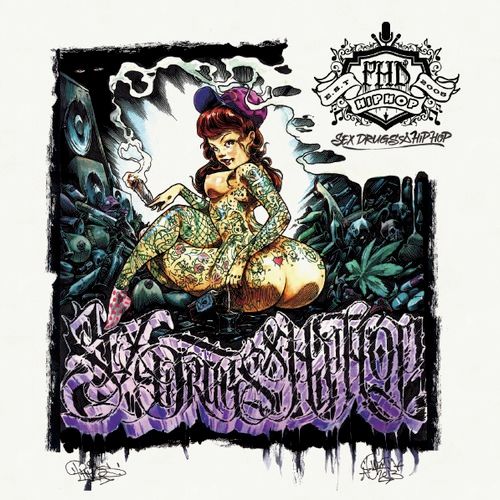 Auckland based rappers T-Thirteen, Anime and Dj Selecta Q are Permanent Head Damage aka PHD. They've recently released their 10th album Sex Drugs & Hip Hop volume 6. Yes thats right you heard correctly a staggering 10 albums.
PHD once again deliver high quality underground Hip Hop with 16 tracks and 52 minutes of goodness. This is their sixth album called Sex Drugs & Hip Hop and as you might expect after all that practice these guys know how to write a song and deliver bars. Believe me theres so many out there that don't. They've got those hooky choruses and the production is nice and full with that punchy bottom end compliments of PHD themselves with additional production from beat maker Zone 1.
An album of up tempo high energy rap songs with that rowdy Public Enemy kind of vibe to the tracks, PHD bring their trademark technical fast paced raps to the board with DJ Selecta Q lacing their tracks with his signature syncopated scratching.
As you might expect a lot of the material is based on their favourite topic marijuana but they also cover topics like the struggle to give up cigarettes and alcohol, the importance of their fans and supporters and how much they like Mexican food and Katie Perry.
I've seen some of the tracks out in cyber space already. I remember watching the video to their song Fam & Fans featuring Devolo from Deceptikonz last year and their song Mexican Food almost won the $10k www.theaudience.co.nz prize pool from fan votes.
They're a great act to see live If you ever have the chance and have had plenty of touring experience touring Germany recently as part of the Gutta Howse collective. They're even planning a German edition of their album so I guess they'll be touring there again soon. In fact last time I wrote about PHD they were fund raising to tour Australia. They're a rap group that Is always on the grind. T-Thirteen is off to Australia soon for his first international rap battle which he funded through crowd funding pledges from fans and supporters . I don't know anyone else who can match their level of dedication commitment to Hip Hop and hard work.
The group have hard copies of the album available from their website with awesome cover art by artist Deus of a naked tattooed girl with a giant booty smoking a joint. Both T-Thirteen and Anime are talented visual artists also with T-Thirteen being a fantastic graph artist and Anime a professional tattoo artist so you know they're always on point with their visuals.
Don't sleep on Sex Drugs & Hip Hop Volume 6. Check out the video for the song Fam & Fans below and get the album for the bargain price of $15 from the website.